Law Offices of Fei Pang was founded by Attorney Fei Pang, Secretary-General of the Chinese American Federation. Our boutique law offices are centrally located in the city of Arcadia in Los Angeles County, with satellite offices in the city of Irvine located in Orange County, California, and international offices in the cities of Guangzhou and Beijing, China. We have a strong team of lawyers, handling Business, Immigration, and Civil Law, who also have experience in Cross-Border E-Commerce Trade, Cross-Border Marriage, Trusts & Estates, Wealth Inheritance and specialize in various complex cases. We offer a multilingual staff to accommodate clients in multiple languages.
Practice areas:
Business:
Be good at lawsuits and arbitrations, such as fraud, contract, and labor dispute, and also be proficient in intellectual property, such as trademark, copyright, and trade secret. Other services include business contract, merger, investment, financing, lease, negotiation, international trade, customs affairs etc. At the same time, we provide long-term legal counsel services to several companies, including project investment, overseas mergers and acquisitions, business regulatory compliance, company establishment, writing and review of commercial legal documents, and providing legal consultation for the daily operation of the company.
Immigration:
Our lawyers are successful in dealing with immigration, especially EB1, EB5, PERM, H-1B, L visa and subsequent domestic adjustment of identity card. We also provide special services from establishing branches in the United States to manager visas and providing one-stop legal services for green cards.
Civil:
Deal with complicated divorce cases, marriage green card, citizenship, testamentary trust, property planning, divorce guardianship and civil litigation.
Our other services include Third-Country Nationality, Real Estate Development, Insurance Planning, and Studying in the US.
Why Engaging Our Firm for Your Legal Services?
First, with the excellent professional skills of our strong lawyer team and the rich experience accumulated over the years, more and more clients find us. This also accumulates more experience in complex cases. Over time, we became a real expert in business, immigration, and civil law.
Second, you will get best possible results at lower costs. Our approval rate for business-oriented immigration cases is High. We have more than a decade's experience in Business.
Third, experienced partners will handle your case directly. Unlike those big firms, which not only cost you a lot but also cannot guarantee that a partner will handle your case.
Fourth, you will be served by a team with abundant legal education and experience in both U.S. and China. Our managing attorney, partners, associates, and paralegals.
Fifth, we set an office in China to coordinate your multinational business. We have an office in Guangzhou, Beijing, Shanghai, Hangzhou, Wenzhou, Chegndu, China, and appointed our experienced staff to work in 24/7.
Sixth, Migration Specialist Service, worry-free. We have a strong team of migration specialists to provide you with tailor-made consulting services such as legal counseling, financial planning, relocation, real estate investment development, life insurance, estate planning and children's education planning before and after landing in the US to establish your life in the United States with peace of mind!
Our Vision: Become America's Most Trustworthy Chinese Law Firms.
Brief Introduction of Fei Pang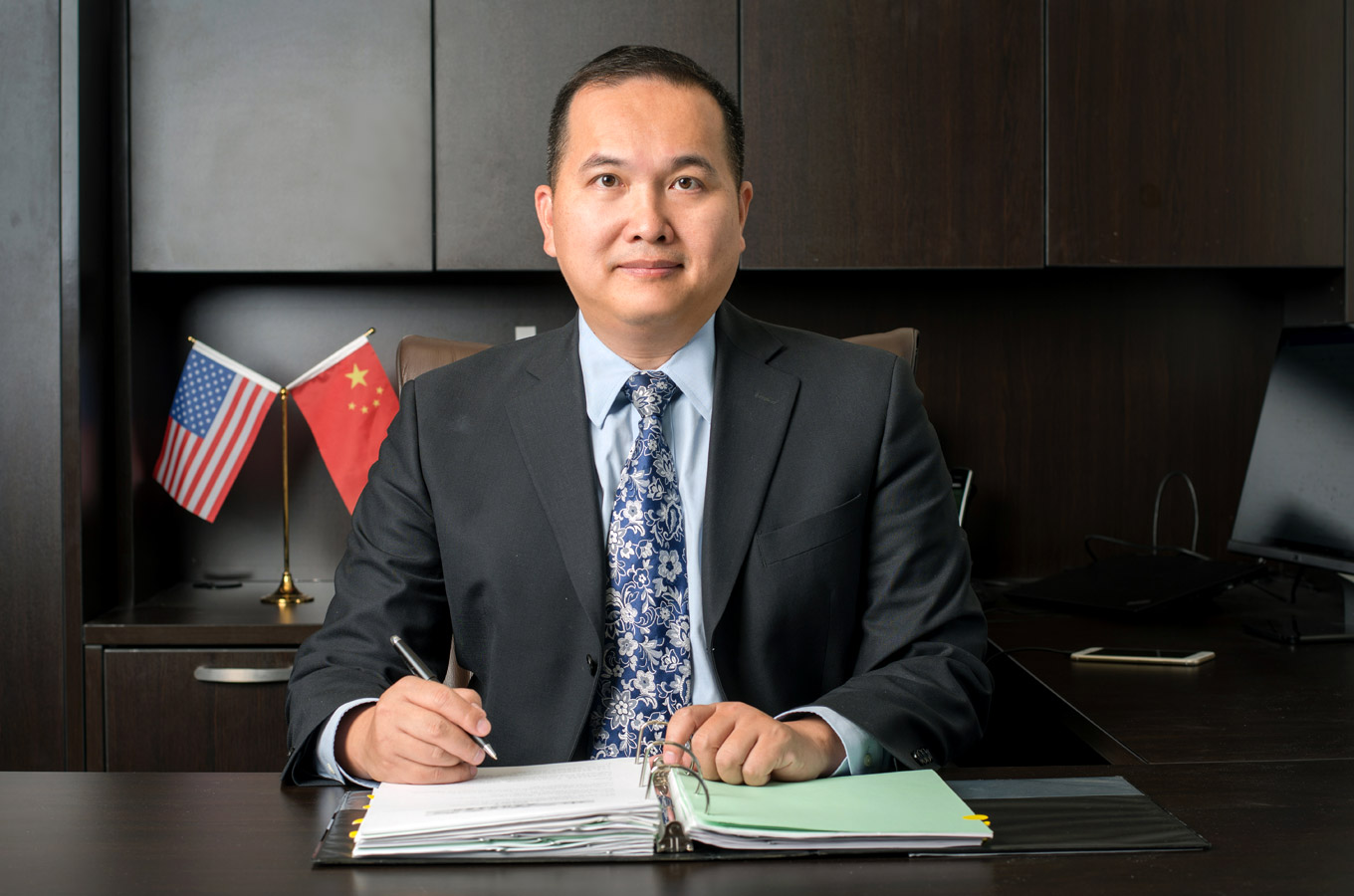 Fei Pang is the managing attorney of the Law Offices of Fei Pang. He is a member of the California State Bar. He received extensive education and training in the legal systems of both the United States and his native China. Fei holds L.L.M. and J.D. degrees from the University of Iowa School of Law, as well as a Master of Laws (with Civil Procedure emphasis) from the Sun Yat-Sen (Zhongshan) University School of Law in China. He received his undergraduate degree from the University of International Business and Economics (UIBE) in Beijing.
He passed the California Bar in 2007. He is admitted to all state courts in California (2007), Central District of California (2007) and Northern District of California (2009). Before he opens his own law office, he worked for several mid to big size firms in Los Angeles area and also worked for DuPont, a Fortune 500 company as its in-house Trademark Counsel and Asia Pacific Brand Protection Manager.
In addition to English, Fei is a native speaker of Mandarin, Cantonese and also understands the Wenzhou, Leizhou and other Chinese dialects.
Contact Us
Arcadia Office:
Address: 411 E Huntington Drive., Suite 206, Arcadia CA 91006
Telephone: 626-838-6868

Irvine Office:
Address: 930 Roosevelt, Suite 215, Irvine, CA 92620
Telephone: 949-565-1612

Guangzhou, China:
Address: 广东省广州市天河区珠江新城冼村路5号凯华国际中心14楼
Telephone: 19128853221 / 19128850105
Beijing, China:
Address: 北京市朝阳区建外街道恒惠西路建外SOHO西区18号楼1605
Telephone: 19128850105 (北京手机号)